Written by Christa Freemann, PTA, Certified Personal Trainer and Certified Pilates Specialist.
People often mistake Pilates as solely a women's exercise and this always baffles me because it couldn't be further from the truth. In short, Pilates is a type of resistance training created by a man, Joseph Pilates. Although Pilates's wife Clara also taught, Joseph Pilates is the original creator of this type of resistance training.
Why choose Pilates? While there are many benefits to doing Pilates in general, I will just be highlighting a few:
Improve overall strength
Improve core stability & strength
Improve range of motion and flexibility
Improve endurance
Improve coordination
Improve sex life
Bullet points didn't convince you? Maybe this will! There are many male athletes who incorporate Pilates into their training. Here are some quotes from NFL players who have benefitted from Pilates and enjoy it! !
Antonio Brown: Formerly Pittsburgh Steelers wide receiver, currently Tampa Bay Buccaneers wide receiver. In an interview with STACK, Brown stated, "It's not like weight training . . . it's all about control and body position, which receivers like myself need the most." Christine Ruby, who is Brown's Pilates instructor, stated: "What Pilates does best is it creates muscle balance, so it works on strength and length at the same time. Ideally, to keep him from getting injured, we need to make sure the muscles on one side of his body match in length and strength the muscles on the other side of the body."
Calvin Johnson: Wide receiver for the Lions. Johnson, along with many other players, worked with Sarah Picot to promote core strength, balance, and flexibility. In a Sports Illustrated interview Johnson stated, "[Picot] knew more about flexibility than we did, and we learned the more flexible you are, the faster you're going to be."
Brandin Cooks: Wide receiver for New Orleans Saints posted a picture of himself on the Pilates reformer on social media stating, "Great session today! Working on all aspects of the body!"
Nate Burleson: Wide receiver for the Seahawks and Lions. Burleson not only saw the difference Pilates can make on your core, but your flexibility, and the importance of injury prevention. Burleson told CBS Detroit that Pilates had not only made his muscles more flexible, it also benefited his ligaments and tendons by providing more "give." Burleson went on to say: "What most guys are doing now, they're using it (Pilates) as a preventative measure, so it's almost like 'prehab' in a sense," Burleson continued, "most guys, especially if you've been in the league for a while, your off day is a subtle work day. You're doing some type of work to keep your body as loose and limber as possible."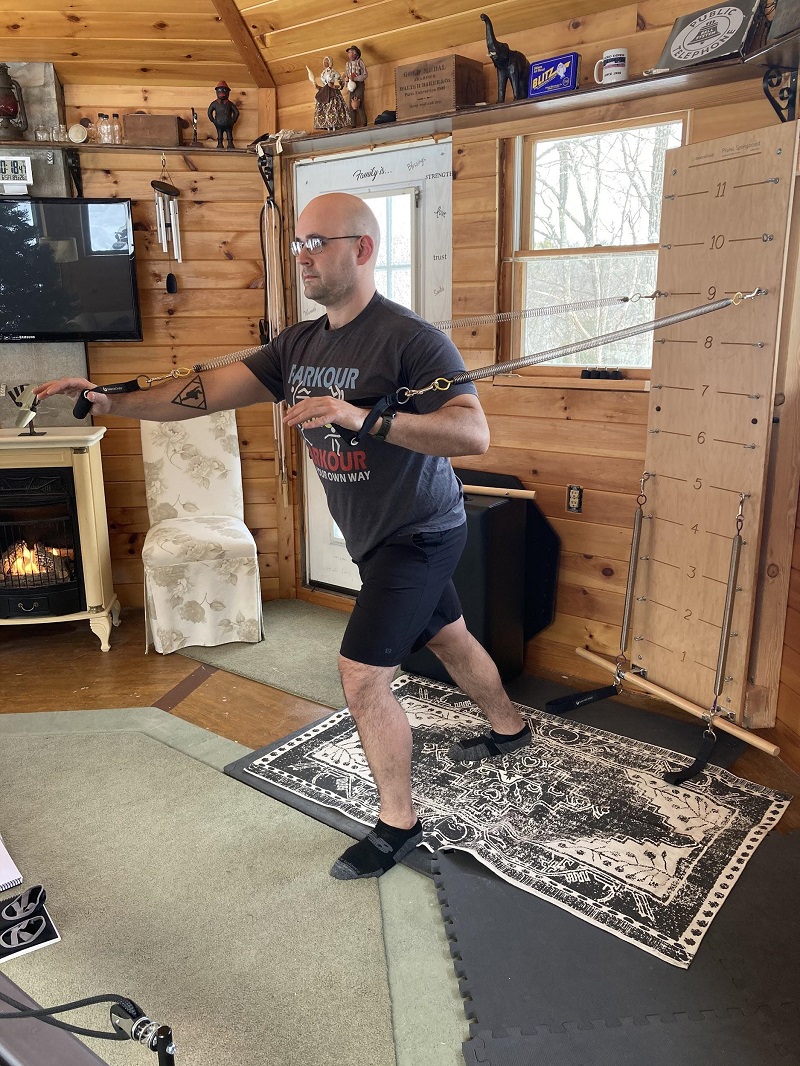 Martellus Bennet: Tight end for the Green Bay Packers and New England Patriots. In an interview with Pilates Style, Bennet explained how he got hooked on Pilates after his first session because of the way it made him feel. Bennet noted the high demand and toll his position took on his joints and lower back and how much Pilates helped improve his ability to change direction on the field due to his increase in flexibility. "To counteract the joint compression caused by weightlifting, I go straight from weights to Pilates as often as possible. [It] helps me work on rebalancing and activating my muscles . . . supporting muscles that hold up the bigger ones." Bennet also stated, "I can lift 500 pounds, but in a Pilates session, there's always some different type of motion that's hard for me to do. That's what is so great about it."
If you're still worried about the "stigma" that comes along with Pilates, here at Lee PT & Wellness we do not judge or view different styles of training as gender-specific . In fact, our male staff participate in Pilates! Shane Delameter, PTA, parkour and Animal Flow enthusiast said, "I thought I was in touch with my body/muscles and had a strong core, however, then I tried Pilates and I was blown away at the amount of work and requirement of seemingly simple movement. As a meathead, I quickly realized how beneficial pilates is to my mobility."
Give Pilates a try and see all that it has to offer for your own health and wellness!
Citations
Lucier, M. (2015, April 17). Why these 7 Nfl receivers Do Pilates. Retrieved February 17, 2021, from https://www.stack.com/a/wide-receivers-pilates
Pilates foundation. (n.d.). Retrieved February 17, 2021, from https://www.pilatesfoundation.com/pilates/the-history-of-pilates/