Lee Physical Therapy & Wellness
PATIENT INFO
How are you handling Covid-19 at the clinic?
Lee Physical Therapy & Wellness are here to care for you, even in the midst of COVID-19 in our community. Your health and safety are our top priorities, and we've put in place many precautions to help keep you safe should you need care for any conditions to keep you moving and living.
We're open, we're available, and we're ready to serve and care for you.
We thank you for all that you're doing to help keep our communities safe and look forward to helping you get back to being the best version of yourself.
What are your hours of operation?
Our Physical Therapy hours are as follows:
Monday 8:00-4:00pm
Tuesday 10:00-7:00pm
Wednesday 8:00-4:00pm
Thursday 10:00-7:00pm
Friday 8:00-4:00pm
Our Strength Training Division is open Monday through Saturday by appointment only
Who do I contact if I have questions or want to make appointments?

You may call our office number at 518-622-9200 or email our Department Head of Physical Therapy, Katrina at: [email protected]
To book sessions with our Strength trainer, you can email [email protected]
Who uses Physical or Rehabilitative Therapy?
Those who benefit most from Physical Therapy are individuals who are in need of restoring injured body parts, increasing flexibility, or building strength. We also help improve posture, which if left uncorrected can cause damaging musculoskeletal conditions. Additionally, we help patients who have undergone surgeries and who are in need of therapy to regain optimal physical functionality.
What should I bring with me to my first appointment?
Please bring any records from your previous doctor, a list of your medications, allergies and a list of prior doctors. We also recommend bringing in a list of any questions or concerns you may have. Please make sure that you arrive at least 15 minutes before your scheduled appointment so that you can provide us the necessary paperwork and insurance information to put you in our system. To save time, you can also print the Intake Forms located on our forms page, and bring them completed to your appointment.
What should I wear?
We highly recommend you bring comfortable, nonrestrictive clothing or athletic wear to our physical rehab clinic because oftentimes we will be stretching or exercising you. Your clothes should also allow us to evaluate your area of injury, so please dress accordingly. As for footwear, we suggest comfortable, closed-toe shoes, preferably sneakers. If you have any questions, please contact us prior to your first appointment.
How long does each visit take?
The initial visit takes a little longer than the subsequent visits due to the paperwork that you need to fill out, in addition to the completion of the assessment process. Normally, appointments are usually between 60 minutes.
How long will I need physical therapy?
You will need to attend physical therapy sessions until you and your therapist decide that you have reached your desired level of function or that further therapy would not be beneficial. Often therapy will also be monitored by your physician.
When should I start seeing improvement?
Again that depends on the same factors associated with how long treatment will take. We make a treatment plan for you, which includes follow up and regular maintenance visits to our physical rehab clinic. If at any point you feel like you are not progressing at a satisfactory rate, we will collaborate with you and modify your treatment plan. We will always keep you informed as well about your progress.
Will you keep in contact with my doctor?
After your initial evaluation we will send a copy of the examination to your doctor along with progress notes at regular intervals.
Will I see the same physical therapist every time?
We will make every attempt to schedule you with the therapist you desire to see. However, there may be times when another physical therapist will treat you to accommodate your schedule. All of our physical therapists are fully-licensed and enjoy delivering high-quality care.
Will my insurance pay for therapy?
Generally, most insurance companies pay for physical therapy.  We recommend that you call the benefit number listed on your insurance card to check on your insurance benefits before you start therapy.
Do I need a physician's referral for physical therapy?
Most insurance companies do not require that you get a physician's referral for physical therapy.  If you do have a referral, bring it with you to your first appointment. Medicare requires the patient to be seen every 30 days by their physician to continue with therapy.
Lee Physical Therapy & Wellness
ADA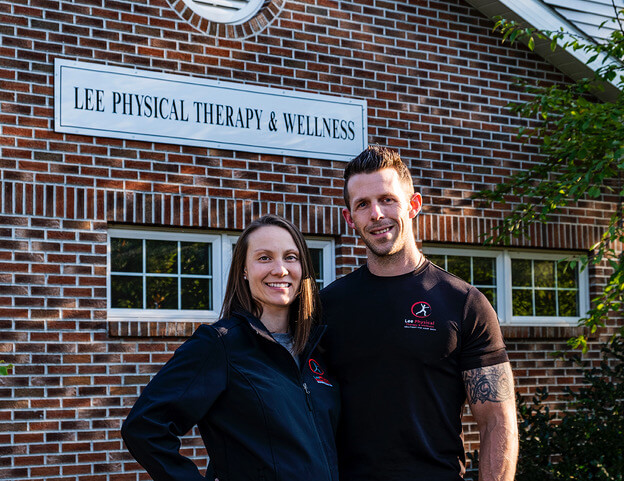 Insurance 101 for pt patients
So your insurance "covers" physical therapy-which means you won't have t pay anything out-of-pocket for your therapy visits, right? Not quite. The fact that your insurance plan covers PT services-or any other services, for that matter- doesn't necessarily mean you're off the hook as far as payment goes. In many cases, you'll still have to pay a deductible, a co-insurance, or a copayment. Talk about tricky.
To better understand the terms of your plan, you first must understand the terminology. Here are a few common questions regarding insurance lingo:
This is the total amount that you must pay for a covered service, as defined by your health plan. Copays usually very for different plans and types of services. Typically, you must pay this amount at the time of service. Again, copay amounts are fixed- which means you will always pay the same amount, regardless of visit length. In most cases, copayments go towards your deductible.
This is a fixed amount that you must pay for a covered service, as defined by YOUR health plan. Copays usually vary for different plans and types of services. Typically, you must pay this amount at the time of service. Again, copay amounts are fixed- which means you will always pay the same amount, regardless of the visit length. In most cases, copayments go toward your deductible.
This type of out-of-pocket payment is calculated as a percent of the total allowed amount for a particular service. In other words, it's your share of the total cost. For example, let's say:
Your insurance plan's allowed amount for an office visit is $100
You've already met your deductible
You're responsible for a 20% coinsurance
In this situation, you'd pay $20 at the point of service. The insurance company would then pay the rest of the allowed amount for that visit. Keep in mind that the coinsurance amount may vary from visit to visit depending on what services you recieve. ​
What is a Coinsurance for Medicare Part B?
Medicare Part B patients are responsible for a 20% coinsurance, which typically amounts to $11-25 per visit. If you have original Medicare as your primary insurance, but you also have a secondary insurance, the secondary payer becomes responsible for the 20%. In some cases, the secondary insurance also charges a copay, coinsurance, or deductible, We recommend contacting your secondary insurance carrier to find out.
What if I can't afford to pay these amounts as frequently as I need care?
Your health is our number-one priority. As such, we are happy to arrange a payment plan that works with your budget. That way, you can pay for your care over a time-frame that works for you. Simply ask to speak to our office/billing manager.
We have built our site with ADA compliance in mind and have utilized available tools such as achecker.ca and Google Chrome's ADA compatibility diagnostic tools. Please be aware that our efforts are ongoing. If you have difficulty navigating our website, we ask you to contact us via telephone or email and our helpful staff will be happy to assist you.
4383 New York 23
Cairo, NY 12413
Owners: Lawrence & Katrina Lee
We work very hard to provide an easy-to-use online experience for all guests. We believe all of our website visitors should be able to easily research online on https://lptwellness.com/ regardless of device type and whether an individual requires assistive technology. If you have any questions or would like to report any issues related to the accessibility features of our property's website, please contact us at [email protected]
Navigation Shortcuts
Our inn's website can be navigated by using the tab key to traverse the elements of each page and by using the enter key to activate a highlighted link.
Structured, Semantic Markup
HTML heading tags are used to convey the document structure. Navigation menus are tagged as HTML maps so that the menu title can be read out, and the menu items are presented as a group.
Images Visibility
All content images include descriptive ALT attributes and all purely decorative graphics include null ALT attributes.
Standards Compliance
The site is designed to conform to Level AA compliance as specified by the Web Content Accessibility Guidelines. All pages validate as XHTML 1.0 and use structured semantic markup.
Accessibility References
Browser Help
Optimize the way you view your web browser. If you have difficulty in reading our website on your screen, you may be able to change the settings on your browser to help you improve readability and visibility of each webpage:
Learn about the Accessibility features of these major Internet Browsers below:
Accessibility Features on the Property
Designated disabled parking with parking lot lighting
Cut curbside in front of the main entrance for drop off
Large handicap bathrooms with grab bars
First floor, one level facility
Widened doorways to accommodate wheelchairs
Lee Physical Therapy & Wellness
TRY OUR TWO WEEK MOBILITY PROGRAM FOR FREE